Hotels AKVAMARIN - GINO Paradise Besenova **** offers 235 investment apartments, whose design meets the highest requirements for quality and comfort with an emphasis on relaxation and rest.
The apartments have a fully equipped kitchen, refrigerator, microwave, glass-ceramic hob, coffee maker, kettle, all necessary utensils. Each apartment has a balcony or large terrace overlooking the hotel grounds, the water park and the nearby mountain peaks.
Each apartment has its own thermostat with the possibility of heating and especially cooling, which will be appreciated especially by all visitors in the summer months. The hotel is connected to a geothermal well through which it is heated. Used water is returned to the well.
The hotel was put into operation in 2021 and is directly connected with Aqupark so that especially in winter it is not necessary to go to the cold exterior, but the connecting corridor can easily reach the indoor pools, SPA, saunas, water world and water slides.
There are about 50 hiking trails in the Liptov region with a total length of 1185 km. They are located in the High Tatras National Park, Low Tatras, Great Fatra National Park and Choč Hills. You will also find more than 850 km of marked cycling routes and also a number of ski resorts. Jasná is the largest in Liptov and in the whole of Slovakia. It offers 34 slopes of all levels of difficulty and several ski trails with a total length of almost 50 kilometers. The slopes are served by 23 modern cable cars and lifts on the northern and southern slopes of Chopok. Jasná is also the highest ski resort in Liptov (2004 m above sea level). The Malinô Brdo and Snow Donovaly Ski Resorts are also very close.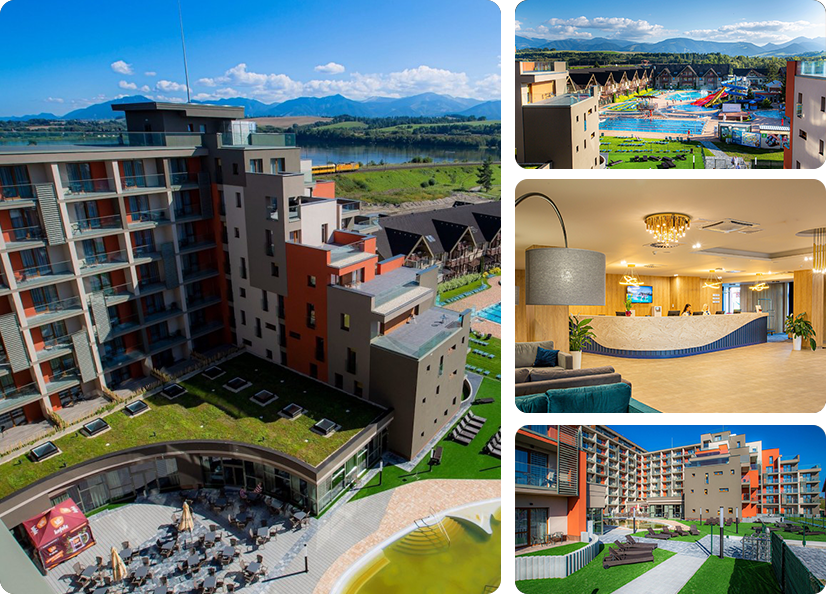 Boarding: v The complex has a wide range of catering facilities. Restaurants, bars, cafes, buffets and fast food stalls provide sufficient capacity for visitors. Hotel Akvamarin offers a restaurant with a capacity of 225 visitors and an adjoining lobby bar and a large terrace by the pool. The Water Park also includes:
wellness center with 6 saunas with inhalations, water storm, outdoor and indoor whirlpools.
relaxation center with fitness center with solarium
Thai relax center offering Thai massages.
Hot water, whose age and biological sterilization is estimated at 27000 years, contains calcium, magnesium, sodium, potassium, iron, manganese, extraordinary amounts of sulfates, bicarbonates and especially lithium and other minerals.
Are you interested in buying one of the apartments? Would you like to get more detailed information abou the projects ? Do not hesitate , contact us, we are at your disposal.